Paul Karabardak is getting ready to take centre stage at the Paralympic Games in Rio, reports Iona Walton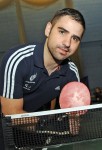 Paul Karabardak competed for ParalympicsGB in table tennis for the first time in Beijing 2008, made his second appearance in London 2012 and is getting ready for Rio in 2016.
Now aged 28 years old, Paul was born and bred in Wales and had a stroke as a boy, which led to left-sided hemiplegia. He started playing table tennis at his local youth club in 1997, little realising his potential as a champion, but within four years he was competing at a serious level.
He was the Swedish Open Champion 2005 and the US Open Champion in 2006 but experienced a huge set back a few months later.
"I fell and stretched a ligament in my wrist which then had to be operated on," he remembers. "The operation didn't go that well and I discovered that the surgery had caused arthritis on my right wrist which was really worrying at the time; it is my only functioning hand because the stroke I had in 1996 left me with no use of my left arm.
"The type of arthritis I have is osteoarthritis which isn't as bad as I first thought because with the right type of injections and supplements I am still able to train for the hours I need to maintain the very good level necessary to compete at the top. Although I can still train for many hours, the arthritis means I can't train for as long as someone who doesn't have it, because it tends to sting and ache."
Not to be deterred, Paul's career has continued to excite spectators who watched him scoop a bronze medal in the European Championship in Italy in 2009 and a silver in Croatia in 2011.
Healthy living
Paul takes a supplement that contains bromelain (an enzyme extracted from pineapple) and hyaluronic acid, "which keeps my wrist in good condition". He needs hydraulic acid injections every six months, takes fish oil tablets to ensure his levels of omega 3 fatty acids are high enough and eats healthily.
"I exercise about three times a week and still have the same routine as before the arthritis developed but tend not to lift as many weights as I used to," he explains.
"Travelling with table tennis means I get to see a lot of the world and different cultures and I have made some great friends. My career pushes me to train hard and be as good as I can."
Having taken some time out after London 2012, Paul's desire to win is back with a vengeance.
"After the London 2012 Paralympics I decided my time was up as I had lost the hunger and passion to train hard as I didn't get the results I had hoped for," he says. "But the combination of a lengthy break and my team mates, family and coach saying I should return to the sport have made me feel refreshed with a new hunger and desire to go on to Rio 2016 and hopefully win what I feel I deserve and have trained hard for.
"My advice for people suffering with arthritis is to manage it well, cope with the pain as best you can and don't let it hold you back."