Sally Perkins relives the day her grandmother fell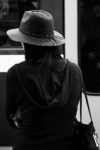 None of us will forget the day my grandmother fell. It might seem like such a simple thing, to fall over. I am in my mid-thirties and have made a lifetime out of it: I trip over flat surfaces, slip on ice, get entangled by seemingly innocent wires, and sometimes my legs just buckle under me and I end up sitting in the middle of the street.
However, my grandmother was in her eighties when she tripped over a loose piece of carpet in her living room and fell. We did not find out for an hour… it took her that long to gather herself and stop shaking so she could phone my mother.
Within half an hour her two children and three grandchildren were at her home. She had landed badly on her left side and her hip was extremely painful. We could see right away she'd cut and bruised herself, and maybe sprained her wrist in the fall, but when we helped her up, she could not put any weight on her hip.
We were right to be worried.
As we waited in the emergency room, I began researching online. I discovered that each year over 300,000 people over the age of 65 years are hospitalized for hip fractures in the US. About 95% of these, occur in a fall. Shockingly, a quarter of all elderly hospital admissions are caused by falls.
A long road to recovery
Luckily for us, the fracture was not as bad as it could have been and we were blessed with good doctors. My grandmother is also incredibly stubborn. Surgery was required to repair the fracture and she spent several weeks in bed afterwards so the bone could heal. She wanted to go back to her home because she felt safe and comfortable there despite what had happened, so I moved in with her for a while.
Over the following weeks and months, my grandmother slowly got her mobility and strength back. It has not been easy and there have been setbacks.
While she was bed bound, I fixed the house and got rid of or repaired all the trip risks and put in grab handles. Now my grandmother is living independently again, but just in case we all visit much more often.
The experience gave me the momentum to team up with a seniors' health advice website and develop a guide on hip fracture: the statistics, the consequences, and the solutions. Hopefully now if anyone else faces what my family has faced, they can be armed with more information.
For more information click here.
To submit your own story to Arthritis Digest magazine click here.
For more in-depth features, interviews and information, subscribe to Arthritis Digest magazine, a popular title that's published six times a year. Click here for the digital version or tel 0845 643 8470 to order your had copy. You'll know what your doctor is talking about, what new drugs are in the pipeline and be up to date on helpful products.