Hand therapists are invaluable for people with inflammatory arthritis, outlines Christy Fowler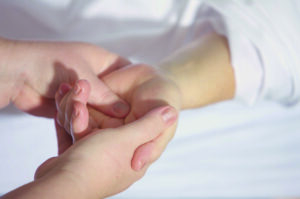 Hand therapists are speciality trained occupational therapists and physiotherapists. They are involved in the management of hand injuries and disorders using exercise, splints, wound care and education. Advance practice hand therapists may also diagnose and treat common hand disorders with injections and interpretation of X-rays. When it comes to arthritis in particular, hand therapists form an integral part of the rheumatology team.
Aim of treatment
A hand therapist will provide education on arthritis that affect the hands and advice on many self-management strategies, from joint protection strategies and pacing to general exercise and fitness. They will provide specific exercises that aim to maintain strength, stability and function in the hand whilst understanding that tightness and over-working particular muscles may worsen deformity in the hand.
When will I see a hand therapist?
The influence a hand therapist may have on the patient's path and self-management of their condition is broad and varied.
Patients may be seen by a hand therapist at any stage of their condition, whether they have inflammatory arthritis or osteoarthritis. They are likely to have multiple points of contact with hand therapists throughout their treatment.
Patients may find themselves being involved with hand therapists at later stages of their condition if deformity has occurred. In this context, a hand therapist may need to provide splints for the hand to reduce deformity and improve function. Or they may be required to help with planning for surgery. If people do need reconstructive surgery, a hand therapist will be involved in rehabilitation of the hand following the surgery.
Where will I see a hand therapist?
Hand therapists are rarely situated in rheumatology clinics, so patients meet with them in other healthcare settings for hand therapy sessions. But at the stage of surgery, we interact closely with surgeons and may have joint appointments with both patient and surgeon in the stages of surgery planning and post-operative care.
Patients are likely to have ongoing contact with hand therapists throughout their life span, being referred back at various times with different needs.
The wider team
Hand therapists liaise closely with other relevant healthcare professionals, from occupational therapists and physiotherapists to GPs and surgeons. Together we reduce the damage arthritis can cause to joints, take on pain and improve quality of life, collaborating with our different training and skill sets.
PS Did you know that Arthritis Digest Magazine is labelled the best UK Arthritis blog from thousands of blogs on the web ranked by traffic, social media followers, domain authority & freshness?