Low levels of vitamin D3 may be associated with fibromyalgia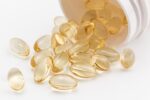 Women with reduced vitamin D levels may be more likely to experience fibromyalgia and pain than women with normal vitamin D levels, a research group reports in a top academic journal.
A total of 80 women aged on average 38 years old with "non-specific musculoskeletal symptoms" were included in the study. Their blood levels of vitamin D were recorded. Women with low vitamin D levels:
Experienced higher pain scores;
Were more likely to have fibromyalgia;
Had more muscle weakness;
Were more sensitive to pain;
Were no more likely to have depression or a lower quality of life.
"Our study results suggest that patients with low [vitamin D] levels may more frequently experience fibromyalgia and pain than healthy individuals," the research group highlights.
Although more research is needed to show if supplementing with vitamin D could improve blood levels of the vitamin and subsequently have beneficial effects on pain, depression, and quality of life of people with fibromyalgia, obtaining more vitamin D through sunlight and diet could be a good starting point for anyone concerned.
Foodie sources of vitamin D
Fatty fish (salmon, tuna and mackerel)
Cheese
Egg yolks
Fortified foods (dairy products and orange juice)
Click here to read the original research.
Want to know more about fibromyalgia? We've written a LOT about this, click here for more.
Arthritis Digest Magazine was selected by Feedspot as one of the Top 5 Arthritis Blogs on the internet in 2019.
For more in-depth features, interviews and information, subscribe to Arthritis Digest magazine, a popular title that's published six times a year. Click here for the digital version or tel 0845 643 8470 to order your had copy. You'll know what your doctor is talking about, what new drugs are in the pipeline and be up to date on helpful products.