New tool – algorithm – predicts progression of osteoarthritis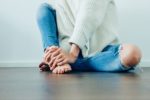 A new way of predicting the progression of osteoarthritis using an algorithm has been developed by a team from the University of Eastern Finland.
Osteoarthritis is a joint disease that involves the degeneration of cartilage. We know that the most important risk factors are getting older and being overweight, and that osteoarthritis is particularly common in joints that are subject to heavy loading.
MRI scans and X-rays only provide information on the thickness or composition of the cartilage, but cannot provide data about the risk of osteoarthritis or tools to predict its progression.
A research team has now developed a set of rules – an algorithm – that allows them to predict the progression of osteoarthritis in individual people and to grade the severity of their disease.
It is based on stresses experienced by the knee joint during walking, and these were simulated on a computer. The algorithm assumes that stresses exceeding a certain threshold during walking will cause local degeneration in the articular cartilage of the knee.
The team has tested the algorithm on people with knee osteoarthritis and found that it works well. It is hoped that the new algorithm could improve clinical decision-making in the treatment of osteoarthritis.
For more in-depth features, interviews and information, subscribe to Arthritis Digest magazine, a popular title that's published six times a year. Click here for the digital version or tel 0845 643 8470 to order your had copy. You'll know what your doctor is talking about, what new drugs are in the pipeline and be up to date on helpful products.