Older non-exercisers build muscle when they begin exercising as well as athletes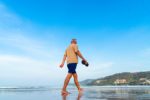 Older people who have never taken part in exercise programmes have the same ability to build muscle mass as highly trained master athletes of a similar age, according to new research in Frontiers in Physiology.
Researchers compared muscle-building ability in two groups of older men:
People in their 70s and 80s who are lifelong exercisers and still competing at top levels in their sport (master athletes);
Healthy people of a similar age who had never participated in structured exercise programmes.
The volunteers were given a drink that could be traced around their bodies, and then took part in a single bout of exercise involving weight training on an exercise machine. Muscle biopsies from the volunteers were taken in the 48-hour periods before and after the exercise; these were examined for signs of how the muscles were responding to the exercise. The drink showed how proteins were developing in the muscle.
The researchers expected that the master athletes would have an increased ability to build muscle due to their better levels of fitness over a prolonged period of time. But the results actually showed that both groups had the same ability to build muscle in response to exercise.
"Our study clearly shows that it doesn't matter if you haven't been a regular exerciser throughout your life, you can still derive benefit from exercise whenever you start," says Dr Leigh Breen, who led the research. "Obviously a long-term commitment to good health and exercise is the best approach to achieve whole-body health, but even starting later on in life will help delay age-related frailty and muscle weakness.
"Current public health advice on strength training for older people is often quite vague. What's needed is more specific guidance on how individuals can improve their muscle strength, even outside of a gym-setting through activities undertaken in their homes – activities such as gardening, walking up and down stairs, or lifting up a shopping bag can all help if undertaken as part of a regular exercise regime."
Arthritis Digest Magazine was selected by Feedspot as one of the Top 5 Arthritis Blogs on the internet in 2018.
For more in-depth features, interviews and information, subscribe to Arthritis Digest magazine, a popular title that's published six times a year. Click here for the digital version or tel 0845 643 8470 to order your had copy. You'll know what your doctor is talking about, what new drugs are in the pipeline and be up to date on helpful products.