Positive self-belief is key to shoulder pain recovery says new UK research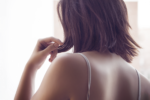 People are more likely to recover from shoulder pain if they have the confidence to carry on doing most things despite their pain, according to new research from the University of Hertfordshire and the University of East Anglia.
Experts followed 1,030 people who had physiotherapy for musculoskeletal shoulder pain over a six-month period. They found that:
Most people significantly improved during their course of physiotherapy;
People who expected physiotherapy would help them were likely to recover more than those who expected minimal or no benefit.;
Those experiencing more pain, who were confident in their ability to still do most things despite their pain, were likely to recover better with physiotherapy than those suffering less pain, but who weren't confident.
"We studied shoulder pain which is very common, affects people of all ages, and often causes substantial loss of movement and function, as well as night pain," explains lead researcher Dr Rachel Chester. "We looked at people who started off with a high level of pain and disability and found that the more they believed in their own ability to do things and reach a desired recovery outcome – the less likely they were to be in pain and have limited function after six months.
"What really surprised us was that these people were more likely to have a better outcome than people who reported a low level of baseline pain and disability but had low pain self-efficacy.
"In addition, on average, people who expected to recover because of physiotherapy did better than those who expected minimal or no benefit.
"We recommend that physiotherapists help patients understand and manage their pain and to select treatments and exercises which help them build confidence in their shoulder and optimise their activity levels. This includes helping patients to gain the confidence to get back on track after a flare-up."
Arthritis Digest Magazine was selected by Feedspot as one of the Top 5 Arthritis Blogs on the internet in 2018.
For more in-depth features, interviews and information, subscribe to Arthritis Digest magazine, a popular title that's published six times a year. Click here for the digital version or tel 0845 643 8470 to order your had copy. You'll know what your doctor is talking about, what new drugs are in the pipeline and be up to date on helpful products.