Smartphones are changing health research in arthritis, reports Prof William Dixon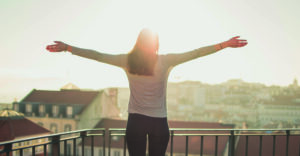 Many patients with long-term health conditions such as rheumatoid arthritis struggle with chronic pain. But recognising what factors affect chronic pain has never been easy. At the Centre for Epidemiology Versus Arthritis at the University of Manchester we strive to find new, innovative ways to improve the lives of people with musculoskeletal disease though our research.
One emerging opportunity is to use patients' own devices – ie smartphones and wearables – to collect information directly from our research participants. Collecting this patient-generated health data allows us to understand what is happening to the patient's symptoms outside the clinic and answer questions that were previously impossible to address.
Weather and pain
Weather has been long thought as one of the factors affecting pain and worsening symptoms in people with different chronic conditions. In almost every clinical consultation, one or more patients will mention that their pain is better or worse because of the weather.
Even though many people (approximately 75%) living with arthritis believe weather influences their condition, establishing a clear a link between weather and pain has always been difficult to prove. Despite much research trying to understand the nature of this relationship, there has previously been no scientific agreement or a clear answer.
In 2016 we ran an exciting and novel study, called Cloudy with a Chance of Pain, to answer this age-old question with the help of new technologies. We recruited over 13,000 people from across the UK and asked them to track their daily symptoms with a smartphone app. We then used the GPS data within their phones to link to the local weather information.
Pain forecast
Finding out what is the connection between weather and pain is undoubtedly important. Cloudy with a Chance of Pain managed not only to investigate – but also to validate – peoples' beliefs that their pain can be associated with changes in the weather.
Our study found that the most important factor contributing to pain was high relative humidity. Humid days were most likely to be painful for people with arthritis and other musculoskeletal conditions. Low pressure and higher wind speed were the other two factors linked to more painful days.
We also managed to debunk a couple of myths along the way. Despite the fact that many people believe pain is driven by lower temperatures, our study didn't find such association. Nonetheless, some cold days that are also damp and windy could be more painful. Precipitation or rainfall was not associated with pain.
We all know that meteorologists are able to forecast the weather days in advance with reasonable accuracy. Understanding how weather relates to pain may allow us to make pain forecasts in the future. We have ongoing work to develop and test the methods to do this accurately. This matters because patients may then be able to anticipate their pain flares based on the weather forecast, allowing them to plan activities accordingly and take greater control of their lives.
Symptom tracking
People living with arthritis frequently experience pain flares and report that their symptoms fluctuate in unpredictable patterns. The doctor's question, "How have you been in the last six months" is thus, understandably, difficult to answer. This means clinical decisions can be made without a clear picture of how a patient has been between visits. Such gaps in knowledge information carry several risks, including late identification or delayed treatment of disease.
The rise of digital technologies and opportunities to remotely collect health information directly from patients allows us to close some of these knowledge gaps. With another of our recent smartphone studies called REMORA (REmote MOnitoring of Rheumatoid Arthritis), we were able to take a closer look into the day-to-day dynamics of musculoskeletal conditions and to understand the mechanics of chronic pain.
Patients consistently reported their health status and symptoms over a period of three months during the REMORA study. For the fist time, such valuable data was made accessible to both the doctor and the patient, as all the gathered smartphone information was then sent into the patient personal electronic health record and visualised in simple graphs of symptoms during the consultation.
We were able to recognise several specific benefits of using remote monitoring of the symptoms for people living with arthritis:
Provide the bigger picture of arthritis by identifying real-time changes in disease activity and capturing symptoms that would otherwise have been missed;
Recognise possible correlation between different symptoms (such as pain and fatigue), as well as between symptoms and external factors (including the weather, diet and physical activity);
Enable person-centred consultations allowing doctors and patients to look together at trends of symptoms through time and make shared decisions;
Empowering patients to organise and self-manage their own health.
Next steps
The REMORA study was proof of the transformative potential of bringing patient-generated health data into the clinical consultation. But there is still a lot to be done to ensure a widespread uptake in multiple different hospital clinics.
We are currently preparing the next larger-scale REMORA project that will be based on the lessons we have learned so far, and which will address some of the remaining unknowns about integrated symptom tracking.
Together with the valuable input of the centre's patient partners we are developing a new app – REMORA 2 – that will allow people to track their daily, weekly and monthly symptoms for up to 12 months. The project will also produce different materials for self-assessment and daily observation, as well as training for clinicians. We then hope to prove that symptom tracking leads to better clinical outcomes compared to usual care.
The goal is to be able to identify distinct patterns of symptoms and the rhythm of long-term conditions over time, bringing our findings into practice and improving the lives of people living with arthritis.
About the author: William Dixon is a Professor of Digital Epidemiology, Director of the Centre for Epidemiology Versus Arthritis at the University of Manchester and an honorary consultant rheumatologist at Salford Royal NHS Foundation Trust
PS Did you know that Arthritis Digest Magazine is labelled the best UK Arthritis blog from thousands of blogs on the web ranked by traffic, social media followers, domain authority & freshness?