Vitamin D in food and supplements lead to less progression of knee joint abnormalities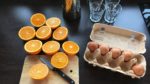 Supplementation with vitamin D over four years has been associated with lower levels of advancement of knee osteoarthritis in a large study in Arthritis Care & Research.
A total of 1,785 people with knee arthritis had MRI scans at the start of the study and four years later. Vitamin C and vitamin D intake (via diet and supplements) were assessed using a questionnaire.
Higher vitamin C intake was associated with healthier magnetic resonance imaging measures of cartilage composition and joint structure. The same was true for higher vitamin D intake.
Furthermore, consistent use of vitamin D supplements over four years of 400 IU at least once a week was associated with less worsening of cartilage, meniscus and bone marrow abnormalities.
"Some measures of vitamin C and D intake from food and supplements were associated with less cartilage degeneration," the study authors explain. "While consistent vitamin C supplementation over four years did not have a significant association with changes in joint morphology, consistent use of at least 300 IU of vitamin D at least four to six days per week) over four years was associated with less progression of knee joint abnormalities in the cartilage and bone marrow, and consistent use of at least 400 IU at least one to three days per week was beneficial for cartilage, bone as well as meniscus tissues."
Top sources of vitamin C:
Oranges and orange juice
Red and green peppers
Strawberries
Blackcurrants
Broccoli
Brussels sprouts
Potatoes
Top sources of vitamin D:
Red meat
Liver
Egg yolks
Fortified foods (most fat spreads and some breakfast cereals)
… don't forget that the body creates vitamin D from direct sunlight on the skin when outdoors
(source NHS)
Arthritis Digest Magazine was selected by Feedspot as one of the Top 5 Arthritis Blogs on the internet in 2018.
For more in-depth features, interviews and information, subscribe to Arthritis Digest magazine, a popular title that's published six times a year. Click here for the digital version or tel 0845 643 8470 to order your had copy. You'll know what your doctor is talking about, what new drugs are in the pipeline and be up to date on helpful products.