Yoga, art and my allotment give me the courage to keep mobile despite my rheumatoid arthritis, reveals Claire Redwood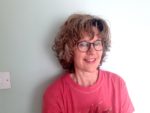 Six years ago when I was in my forties I had a horrible virus – some kind of flu. My joints ached terribly, especially my neck which was so painful that I felt I couldn't support my head. We were on holiday with our children and I kept needing to lie down to relieve my neck. When out walking the soles of my feet ached and joints in my hands were sore.
I saw the GP when I returned home, who suspected rheumatoid arthritis but I had to wait until October for an appointment with rheumatology at the Bristol Royal Infirmary. My symptoms had started in April.
In the two months before the appointment the symptoms increased massively. I had trouble bending my knees to come down stairs or lower myself to the toilet seat. My hands seized up in the night and I had trouble stretching them out. I couldn't move my neck easily, my shoulders were stiff and I couldn't press my hands down on the bed to move or roll onto my side. It was very challenging.
I practised yoga to relieve symptoms and get a few hours of relative movement back before seizing up again around 4pm.
I am on a number of drugs including methotrexate,  sulfasalazine, hydroxychloroquine and folic acid. Originally I was on methotrexate and a steroid and the improvement was moderate. It was hard work for two years; by 9am I found my fingers ached from the morning activities and I felt weary. It was only when I saw a different consultant two years ago who added the other drugs that I really noticed an improvement.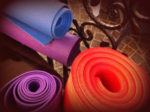 The power of yoga
I have practised yoga daily for around 21 years and for the last 16 years have taught Iyengar yoga. I cannot emphasise enough how much it has helped me emotionally and physically. Yoga has fined tuned my senses so I notice subtle changes within myself, and this allows me to practise in an appropriate way every day. Most importantly, it has given me courage to test what I can do, to endure some "healthy" pain while stretching my joints to keep me mobile. It takes discipline to keep practising when it feels hard.
My advice for anyone with arthritis looking for a yoga class is to find an Iyengar yoga teacher. Iyengar Yoga (UK) has a website where you can enter your postcode to find the nearest class to you. Iyengar yoga teachers have a rigorous teacher training process and are trained to deal with injuries in a very safe manner, using props where appropriate to practice a pose safely. There is a programme of poses specifically for rheumatoid arthritis that can be adapted for beginners – the important thing is to not hold poses for a long time.
Life's pleasures
In order to combat the despondency of dealing daily with a painful disease, I assess what gives me immense pleasure and satisfaction and make sure I factor it into my life. As well as yoga, I've realised that art, ceramics specifically, takes my mind away from worries about my condition, to a place that it cannot reach. This is empowering.
My allotment is also important but I need help with the heavy work. I am glad I maintained this place of refuge and enjoy watching things grow and eating the produce. I also swim in a lake and enjoy cold water swimming during the winter. It cheers me up as it is exhilarating, combats depression and my joints are less swollen for a few hours afterwards.
I lost a lot of muscle strength during the first year of rheumatoid arthritis and so I tried a gentle body conditioning class once a week. I noticed this aerobic activity also reduces joint swelling. The essential thing is to keep physically active to improve circulation and reduce swollen joints.
The pain of arthritis can overwhelm one's whole life but I know I am more than my condition.
Click here if you would like to submit your story to Arthritis Digest.
Arthritis Digest Magazine was selected by Feedspot as one of the Top 5 Arthritis Blogs on the internet in 2018.
For more in-depth features, interviews and information, subscribe to Arthritis Digest magazine, a popular title that's published six times a year. Click here for the digital version or tel 0845 643 8470 to order your had copy. You'll know what your doctor is talking about, what new drugs are in the pipeline and be up to date on helpful products.