Yoga's growing role in lowering chronic pain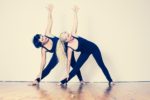 Yoga plus conventional treatment with painkillers seems to be more effective for reducing chronic pelvic pain than treatment with only painkillers, says a review of the evidence from Canada.
Chronic pain is a global health issue that involves persistent or recurrent pain lasting longer than three months. Medication, such as opioids, are often prescribed for people with chronic pain but have side effects, are addictive, and may not even work.
So alternative approaches such as mindfulness training and yoga are attractive. Mindfulness is the intentional and non-judgmental conscious awareness of the present moment. Yoga is a mind-body practice with three main components: physical poses; breathing control; and meditation.
Recent research about mindfulness did not find enough evidence to draw conclusions about its clinical effectiveness.
But a new report on yoga found evidence suggesting that yoga plus conventional treatment with painkillers is effective for reducing chronic pelvic pain, while conventional treatment with painkillers alone was not.
The authors of the review conclude:
"Further exploration of mindfulness or yoga compared with no treatment may provide additional insight on the clinical and cost-effectiveness of these complementary and alternative medicine therapies for management of chronic non-malignant pain."
Click here to read the original research.
Arthritis Digest Magazine was selected by Feedspot as one of the Top 5 Arthritis Blogs on the internet in 2019.
For more in-depth features, interviews and information, subscribe to Arthritis Digest magazine, a popular title that's published six times a year. Click here for the digital version or tel 0845 643 8470 to order your had copy. You'll know what your doctor is talking about, what new drugs are in the pipeline and be up to date on helpful products.