Acupuncture may lower stroke risk in people with fibromyalgia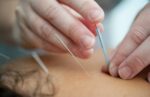 The risk of stroke in people with fibromyalgia may be reduced by acupuncture, says a large new study from Taiwan published in PLOS-ONE.
A total of 65,487 people with fibromyalgia received acupuncture, and the same number did not receive acupuncture.
People who had acupuncture were much less likely to have a stroke (4,216 people versus 6,849 people in the non-acupuncture group) even when taking into account age, sex, illnesses and medication use.
"Our study found that acupuncture might have a beneficial effect on reducing the risk of stroke in patients with fibromyalgia in Taiwan," say the authors of the study, relaying that more studies are needed in the area.
How to choose an acupuncturist?
As acupuncturists have different levels of training, some achieve better results than others. However, three core organisations ensure their members have trained to a good level, so make sure the acupuncturist you are considering is a member of one of them:
Click here to read the original research.
Interested in fibromyalgia? So are we! Click here for the latest new research in the area.
Arthritis Digest Magazine is selected by Feedspot as one of the Top 5 Arthritis Blogs in 2020.
For more in-depth features, interviews and information, subscribe to Arthritis Digest magazine, a popular title that's published six times a year. Click here for the digital version or tel 01892 354087 to order your hard copy. You'll know what your doctor is talking about, what new drugs are in the pipeline and be up to date on helpful products.