Arthritis drug secukinumab reduces ankylosing spondylitis fatigue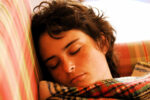 Secukinumab shows rapid improvements in fatigue for up to three years in people with ankylosing spondylitis, says data in Arthritis Care & Research. A biological therapy that modifies immune activity and inflammation, secukinumab can be prescribed for psoriatic arthritis and ankylosing spondylitis in the UK.
Ankylosing spondylitis is a long-term condition in which the spine and other areas of the body become inflamed. It tends to first develop in teenagers and young adults and is twice as common in men than women. Symptoms include:
Back stiffness and pain;
Pain and swelling in other parts of the body, caused by arthritis and tendon inflammation;
Extreme tiredness (fatigue).
The new research builds on previous findings, that secukinumab improves signs and symptoms, physical function and health related quality of life in people with ankylosing spondylitis. It is very encouraging that the drug continued to have positive effects over the lengthy three-year study period.
"Fatigue is reported in up to 66% of patients with ankylosing spondylitis and has been identified as a key patient priority," key author Dr Tore Kvien explains. "Many patients report that fatigue negatively impacts health related quality of life and social functioning; thus, reducing this symptom remains an important unmet need in ankylosing spondylitis."
Arthritis Digest Magazine is selected by Feedspot as one of the Top 5 Arthritis Blogs in 2020.
For more in-depth features, interviews and information, subscribe to Arthritis Digest magazine, a popular title that's published six times a year. Click here for the digital version or tel 01892 354087 to order your hard copy. You'll know what your doctor is talking about, what new drugs are in the pipeline and be up to date on helpful products.