Check folate levels after research shows they are associated with heart issues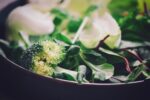 Folate levels are under the spotlight now that research has shown that when low, risk of heart disease death is increased.
We already know that people with rheumatoid arthritis have a higher risk of death from heart disease due to chronic inflammation and elevated levels of a common amino acid called homocysteine. Researchers have discovered that increasing folate levels (one of the B vitamins) reduces homocysteine.
But until now, research groups haven't studied what impact folate levels have on heart disease in people with rheumatoid arthritis. A team has now looked at the issue in 683 adults with rheumatoid arthritis and report their findings in JAMA Network Open. Compared with people who had lower folate levels:
Those with levels 4.3–8.2ng/mL had 48% lower risk of dying of heart disease;
And people whose levels were above 8.2ng/mL had 56% lower risk of dying of heart disease.
The experts conclude that "among people with rheumatoid arthritis, a serum folate level of at least 4.3ng/mL was associated with lower cardiovascular mortality risk. Further research is needed to examine whether a causal relationship exists."
Folate is readily available as a supplement, but natural sources include:
Broccoli
Brussels sprouts
Liver
Leafy green vegetables, such as cabbage and spinach
Peas
Chickpeas
Click here to read the original research. 
Arthritis Digest Magazine was selected by Feedspot as one of the Top 5 Arthritis Blogs on the internet in 2019.
For more in-depth features, interviews and information, subscribe to Arthritis Digest magazine, a popular title that's published six times a year. Click here for the digital version or tel 0845 643 8470 to order your had copy. You'll know what your doctor is talking about, what new drugs are in the pipeline and be up to date on helpful products.