Curcumin can reduce inflammatory responses in psoriatic disease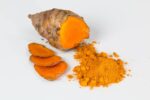 Curcumin, a compound found in the spice, turmeric, which is part of the ginger family, has long been used in traditional medicine for a variety of health issues.
Some recent scientific evidence suggests that curcumin may have anti-inflammatory and immunosuppressive roles in people with psoriatic disease, but how it actually works has remained elusive.
So a team of researchers looked at if curcumin could inhibit production of inflammatory agents (called interferon and interleukin) in people with psoriasis or psoriatic arthritis. They did lab tests on 34 people with psoriatic disease and compared them with 15 health people, reporting their findings in Nutrition Research.
Curcumin deceased the inflammatory agents in people with psoriatic disease and the healthy people. The more curcumin was used, the less inflammatory agent was produced. The authors conclude that "curcumin [in lab experiments] inhibits pro-inflammatory… production in psoriatic disease, and this may strengthen its role as a dietary immunosuppressant in patients with this disease."
Click here to read the original research. 
Arthritis Digest Magazine was selected by Feedspot as one of the Top 5 Arthritis Blogs on the internet in 2019.
For more in-depth features, interviews and information, subscribe to Arthritis Digest magazine, a popular title that's published six times a year. Click here for the digital version or tel 0845 643 8470 to order your had copy. You'll know what your doctor is talking about, what new drugs are in the pipeline and be up to date on helpful products.