Commute and work stress predict sick leave more than fibromyalgia disease factors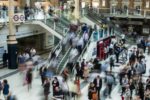 Women with fibromyalgia take sick leave due to workplace factors rather than fibromyalgia characteristics, according to a study in BMC Rheumatology.
A questionnaire for people with fibromyalgia who work full time was completed by 955 women. They had an average of 37 days of sick leave in the previous year: no sick leave (36%); up to one month (38%); one to two months (14%); and over two months (12%).
The groups had no differences in demographic characteristics, fibromyalgia symptoms, functional severity and psychological distress. But they did differ when it came to workplace characteristics. Strong independent risk factors for longer sick leave were commute time, stress and difficulties at work, repetitive work, noisy conditions, career progression problems and lack of recognition. Sedentary positions, an extended sitting position, heavy loads, exposure to thermal disturbances and the use of vibrating tools did not increase the risk of sick leave.
"This is the first study to assess the impact of occupational and clinical factors on sick leave in women living with fibromyalgia," the study authors explain. "Risk factors were found to be related to the workplace rather than fibromyalgia and personal characteristics. Workplace interventions should be developed for women with fibromyalgia."
Click here to read the full results.
Arthritis Digest Magazine was selected by Feedspot as one of the Top 5 Arthritis Blogs on the internet in 2019.
For more in-depth features, interviews and information, subscribe to Arthritis Digest magazine, a popular title that's published six times a year. Click here for the digital version or tel 0845 643 8470 to order your had copy. You'll know what your doctor is talking about, what new drugs are in the pipeline and be up to date on helpful products.