Eat more fibre to reduce arthritis inflammation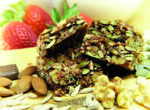 A high fibre diet, even in the form of a fibre bar, seems to reduce rheumatoid arthritis inflammation, says new research in Nutrients.
We know that high levels of inflammation play a crucial role in the initiation and progression of arthritis, which can result in joint damage.
Previous research suggests that a fibre-rich diet may help reduce inflammation by lowering body weight and by feeding good bacteria that live in the gut, which then release substances that lower levels of inflammation around the body.
But people find it difficult to stick to nutritional advice. So a team looked at the impact that a high-fibre bar can have on measures of inflammation. The bars comprised oat flakes, psyllium husk, ground flaxseed, inulin, guar gum, coconut, arrowroot flour, hemp flour and a touch of cinnamon.
A total of 29 people with rheumatoid arthritis were given high fibre bars for 30 days, along with 10 healthy people who ate the bars for 15 days.
Blood tests and stool tests that looked for pro- and anti-inflammatory mediators found that the high-fibre bars resulted in increased anti-inflammatory markers and decreased pro-inflammatory markers.
The team conclude that their results "further strengthen high-fibre dietary interventions as a practical approach complementing existing pharmacological therapies."
Arthritis Digest Magazine is selected by Feedspot as one of the Top 5 Arthritis Blogs in 2020.
For more in-depth features, interviews and information, subscribe to Arthritis Digest magazine, a popular title that's published six times a year. Click here for the digital version or tel 01892 354087 to order your hard copy. You'll know what your doctor is talking about, what new drugs are in the pipeline and be up to date on helpful products.