Higher dose of new drug fasinumab may improve lower back pain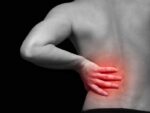 A drug under scrutiny in the UK and the EU seems to improve chronic lower back pain and function when it is given at a higher dose, a research group outlines in the Annals of the Rheumatic Diseases. But it may not suit people with osteoarthritis.
Chronic lower back pain is defined as pain persisting for more than three months and it is notoriously difficult to treat.
The company that is hoping to license the new drug recently tried it out on 563 people aged over 35 years old who had chronic lower back pain that hadn't improved when they were given standard treatments. They split the participants and gave them different doses of fasinumab (or a placebo) for different lengths of time.
They found that those treated at the higher dose (9mg) experienced improvements in chronic lower back pain and function, particularly if they had osteoarthritis.
The trial was ended early as other studies suggested fasinumab could negatively impact joints in people with osteoarthritis. But this trial showed that adverse events were generally similar between those who were on fasinumab and people who were given the placebo. However, when people had peripheral osteoarthritis they were more likely to experience adverse events in this trial too.
"Although the treatment benefit in this study was numerically greater in the peripheral osteoarthritis subgroup, the rates of adverse events in these patients were substantially higher," explains Dr Paula Dakin, senior researcher. "This study, therefore, validated concerns about the use of fasinumab in chronic lower back pain subjects with osteoarthritis, whose benefit-risk at the highest doses was unacceptable."
While people without osteoarthritis had less adverse events at higher doses, the treatment effect was more modest. So, for now, the verdict on fasinumab remains out.
Arthritis Digest Magazine is selected by Feedspot as one of the Top 5 Arthritis Blogs in 2020.
For more in-depth features, interviews and information, subscribe to Arthritis Digest magazine, a popular title that's published six times a year. Click here for the digital version or tel 01892 354087 to order your hard copy. You'll know what your doctor is talking about, what new drugs are in the pipeline and be up to date on helpful products.