Evidence review suggests which non-opioid painkillers help chronic pain conditions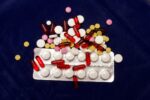 Pain relief is a hot topic due to issues around addiction, side effects and whether some painkillers actually work. Opioid options are certainly in the firing line. So experts set out to review evidence around non-opioid drugs in people with specific types of chronic pain.
They looked at 185 trials and five reviews of the evidence and found that short term, small improvements in pain and/or function were seen with:
Serotonin-norepinephrine reuptake inhibitor (SNRI) antidepressants for neuropathic pain, fibromyalgia, osteoarthritis and low back pain;
Anticonvulsants pregabalin and gabapentin for neuropathic pain and fibromyalgia;
Oxcarbazepine for neuropathic pain;
Nonsteroidal anti-inflammatory drugs for osteoarthritis and inflammatory arthritis.
Improvement in function was not found with duloxetine for low back pain and pregabalin/gabapentin for neuropathic pain.
Other drugs studied had no clear effects, including acetaminophen (osteoarthritis), capsaicin (neuropathic pain), cannabis (neuropathic pain), amitriptyline (fibromyalgia, neuropathic pain) and cyclobenzaprine (fibromyalgia).
Adverse events
Withdrawal from studies due to negative side effects was increased with non-opioid drugs, especially cannabis. As well as cannabis, large increases in risk of adverse events were seen with pregabalin (blurred vision, cognitive effects, dizziness, swollen hands or legs, sedation and weight gain) and gabapentin (blurred vision, cognitive effects, sedation and weight gain).
Small increases in risk of major coronary events and moderate increases in serious gastrointestinal events (both short and long term) were found with NSAIDs.
The authors of the study suggest that: "careful consideration of patient characteristics is needed in selecting nonopioid drug treatments".
Click here to read the original research.
Arthritis Digest Magazine was selected by Feedspot as one of the Top 5 Arthritis Blogs on the internet in 2019.
For more in-depth features, interviews and information, subscribe to Arthritis Digest magazine, a popular title that's published six times a year. Click here for the digital version or tel 0845 643 8470 to order your had copy. You'll know what your doctor is talking about, what new drugs are in the pipeline and be up to date on helpful products.