Footwear: stable and supportive reduces knee pain more than flat and flexible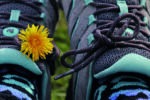 Wearing stable, supportive shoes while walking appears to reduce osteoarthritis knee pain more than flat, flexible shoes, Australian researchers report in the Annals of Internal Medicine.
The 164 people in the research project were aged over 50 years and had moderate to severe knee arthritis. Half were asked to wear flat flexible for six hours a day for six months. The other half wore stable supportive shoes.
Compared to those wearing the flat, flexible shoes, people wearing the stable supportive shoes had:
Reduced knee pain, hip pain and improvements in knee related quality of life;
Less adverse events (falls, knee swelling and pain in knee, ankle, foot, shin or calf).
"Drugs have limited short-term effects on pain and surgery is reserved for end-stage disease, so self-management of [knee osteoarthritis] symptoms is really important," outlines Rana Hinman, one of the study authors. "Footwear is a simple self-management strategy that has the potential to change loading across the knee joint and potentially reduce knee pain."
Arthritis Digest Magazine is selected by Feedspot as one of the Top 5 Arthritis Blogs in 2020.
For more in-depth features, interviews and information, subscribe to Arthritis Digest magazine, a popular title that's published six times a year. Click here for the digital version or tel 01892 354087 to order your hard copy. You'll know what your doctor is talking about, what new drugs are in the pipeline and be up to date on helpful products.