Link between arthritis flares and reduced exercise found using wearable technology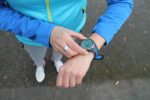 Arthritis flares may be associated with reduced physical activity, experts find after analysing data collected thanks to wearable technology.
"There have been several studies that looked at whether patients who had clinician-confirmed rheumatoid arthritis or axial spondyloarthritis could identify when they were going to flare based upon changes in the number of steps," Dr Judith James explained at the Congress of Clinical Rheumatology.
Now a small study involving 91 people with rheumatoid arthritis and 79 people with axial spondyloarthritis wearing activity tracker watches everyday for three months has concluded.
Physical activity was measured as daily steps, total activity duration and whether the activity was moderate to vigorous. Every day the patients used an app to report flares, pain, disease activity and number of steps.
Flares that lasted more than three days were associated with less weekly physical activity, decreased number of steps and over one hour less in weekly activity.
More research is set to be carried out using wearables including technology to track sleep patterns, heart rate variability and activity.
Arthritis Digest Magazine was selected by Feedspot as one of the Top 5 Arthritis Blogs on the internet in 2018.
For more in-depth features, interviews and information, subscribe to Arthritis Digest magazine, a popular title that's published six times a year. Click here for the digital version or tel 0845 643 8470 to order your had copy. You'll know what your doctor is talking about, what new drugs are in the pipeline and be up to date on helpful products.