Osteoarthritis impacts on more than just the joints, writer and agony aunt Virginia Ironside reveals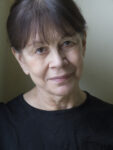 Perhaps it has something to do with her name, but on paper Virginia Ironside sounds completely sorted.
Her turbulent childhood and depression encountered in her youth have been come to terms with, at least up to a point. Her creative streak has enabled her to be a hugely successful writer of books, features and problem pages. She adored her sixties… and has written (and performed) about Growing Old Disgracefully.
But despite being a high achiever and leading an incredibly interesting life, like everybody 73-year-old Virginia has low days. Since her recent knee surgery, these have become more common.
"It has been three months since my knee surgery and I haven't yet recovered as much as I hoped," she says. "I am constantly exhausted. I am in pain due to the osteoarthritis I have in other joints but I can't face another operation. Today, the future seems grim."
Virginia has had symptoms of osteoarthritis for 20 years.
"I found myself putting my bag on a table or chair instead of the floor, so I didn't have to bend to pick it up," she remembers. "My neck became badly affected, followed by my feet. X-rays showed I had osteoarthritis and I needed an arthroscopy in one shoulder. This was very successful. Unfortunately the same operation in the other shoulder was less so."
Further subtleties in Virginia's behaviour indicated that her knees would be the next to be afflicted.
"Other people noticed it before me," she says. "When walking down a flight of stairs with my daughter-in-law, she asked if I would like to change places so I could hold onto the hand rail. 'I'm perfectly alright thank you,' I replied tartly."
Knee surgery
But the daughter-in-law was right and the osteoarthritis progressed, the pain 'coming and going' until Virginia realised she needed to act.
"You have to judge carefully when you have surgery done," she advises. "I didn't want to rush into it, but equally I wanted to have surgery while my muscles were still in reasonable working order."
As she was already in regular contact with a rheumatologist, it didn't take long to be referred to a knee surgeon.
"I am aware that surgery can make things worse, so I asked everybody I could think of about my potential surgeon," she explains. "The same name kept coming up as being the best in the business – Jonathon Lavelle – even my chemist recommended him."
Jonathon suggested that Virginia have a partial knee replacement in both knees at the same time.
"He was certain that having them done at once was the right decision for me," she says. "I was incredibly anxious before the surgery, which manifested in panic attacks on some days and extreme tiredness on others. I didn't realise it was down to anticipation of the operation. It wasn't helped by well-meaning friends querying why I was being so mad as to have both knees done at the same time.
"But as I didn't have 'a good knee', it made sense to me and I had made up my mind."
Even though she needed a blood transfusion after surgery, Virginia was on her feet within a few hours of waking up and her initial recovery was good. She stayed in hospital for five days and then moved to Linden Hill Clinic, which deals with all kinds of rehabilitation.
"I had two sessions of physiotherapy a day and was extremely well looked after for 10 days. A friend stayed over the first night that I came home, and gradually I recovered, helped by the frozen meals I had stocked up on. Soon I was able to walk to the shop, and friends – and my lodgers – made sure I was alright."
But six weeks after her operations, Virginia wasn't feeling the benefits that she had expected.
"Six weeks seems to be a magic number when it comes to surgery, at which point people having joint operations are supposed to be turning a corner," she says. "At that point I was still feeling pretty terrible. I've noticed more of an improvement after three months and can get up and down the stairs more easily than before, which was the point of the surgery. I still don't feel right, however, and my surgeon says that once a year has passed I should feel back to normal.
"I have to remind myself that I have had a major operation and that is why I am still completely exhausted. Even for a level headed person, surgery is an assault on the body. I'm glad I had the operation, but heavens it's a big thing to take on."
For more information about Virginia Ironside, visit her website: www.virginiaironside.org
NB Interview was first published 2018