My symptoms of ankylosing spondylitis were misdiagnosed as growing pains, with dire consequences for my long-term health – Ivan Charleton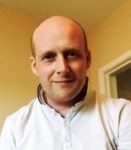 Walking to school one morning when I was 13 years old, I felt a sharp pain in my left hip that never left me. Over my teenage years I saw many doctors, who all suggested I was experiencing growing pains. When I was 19 years old I even spent three months in hospital while various healthcare professionals tried to get to the bottom of my pains, with no success.
Finally, two years later, I was diagnosed by a doctor who had a special interest in ankylosing spondylitis.
My diagnosis came as a shock… I couldn't even pronounce "ankylosing spondylitis" for months. Less was understood about it 20 years ago and I received little support from healthcare professionals.
Over the years my ankylosing spondylitis has progressively got worse, and now mainly affects my hips, spine and neck. I received a total hip replacement at the age of 39 years and am due to have my other hip replaced soon. My neck is fused from C2–C6 due to spinal stenosis; I have a severe stoop as most of my spine is fused too.
I have been on a wide range of medication. Anti-inflammatories do not take the pain and stiffness away. I was put onto a biologic (adalimumab) three years ago but had to stop taking it when I had my hip replacement operation and I haven't been put back on it. Now the only medication I take is co-codamol.
Quality of life
I try to lead an active lifestyle and owned my own restaurant business but unfortunately this had to close when my ankylosing spondylitis was most aggressive in my thirties. I need a job that means I can sit, but even that becomes unbearable when stiffness sets in.
It takes me at least four hours to get moving in the morning, and fatigue kicks in around the afternoon. I am unable to complete daily activities without pain. I can hardly lift my head, which means I sometimes walk into doors.
My hip replacement has given me back some quality of life and I can socialise again. I even managed to go on holiday recently.
Advice
Anyone recently diagnosed with ankylosing spondylitis should keep active by swimming and walking. Lie flat on your stomach and back for at least 20 minutes every day. I wish I had listened to the specialist who advised me about this. I thought I was fine and couldn't see my stoop forming; now the damage to my spine is irreversible. Try to be positive and never let it get you down.
Click here if you would like to submit your story to Arthritis Digest.
For more in-depth features, interviews and information, subscribe to Arthritis Digest magazine, a popular title that's published six times a year. Click here for the digital version or tel 0845 643 8470 to order your had copy. You'll know what your doctor is talking about, what new drugs are in the pipeline and be up to date on helpful products.