Avoid heavily processed food to maintain healthy heart in rheumatoid arthritis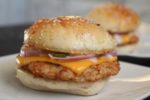 Eating ultra-processed food is associated with higher risk of heart disease in rheumatoid arthritis researchers report in Clinical Rheumatology.
A total of 56 people aged on average 63 years old had their diets evaluated according to the processing level (unprocessed or minimally processed foods, processed foods, and ultra-processed foods). The researchers found that more consumption of ultra-processed foods was associated with:
Higher 10-year cardiovascular risk of a person;
Higher blood glucose levels, which indicates the onset of diabetes and subsequent heart disease.
But eating more unprocessed or minimally processed foods was associated with lower 10-year risk of developing cardiovascular diseases and cholesterol levels.
"Patients with rheumatoid arthritis consuming more ultra-processed foods showed worse metabolic profile, whereas those consuming more unprocessed or minimally processed foods had lower cardiovascular risks," the group explains. "A food pattern characterized by a high ultra-processed food consumption appears to emerge as a novel, modifiable risk factor for cardiovascular diseases in rheumatoid arthritis."
Click here to read the full results.
Arthritis Digest Magazine was selected by Feedspot as one of the Top 5 Arthritis Blogs on the internet in 2019.
For more in-depth features, interviews and information, subscribe to Arthritis Digest magazine, a popular title that's published six times a year. Click here for the digital version or tel 0845 643 8470 to order your had copy. You'll know what your doctor is talking about, what new drugs are in the pipeline and be up to date on helpful products.