Versus Arthritis made all the difference in the world to my daughter Abigail who has juvenile idiopathic arthritis, highlights Sarah Voice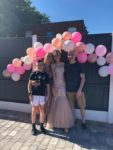 Our youngest child, James, first displayed symptoms of arthritis in his knees when he was two and a half years old and was diagnosed with oligoarthritis, the most common type of juvenile idiopathic arthritis.
We were completely taken aback when we received the news. I had been diagnosed with arthritis after giving birth to Abigail, but I had never heard of a child with the condition before. James was given joint injections when he was five and went into remission.
A few years later our daughter, Abigail, who was 10 years old at the time started to complain of swelling in her thumb. We thought she was experiencing pain from all the writing she'd been doing at school, but when we took her to the doctors, she was quickly diagnosed by our consultant with polyarticular juvenile idiopathic arthritis and went straight onto prednisolone and methotrexate.
Abigail is 16 years old now and it's been a difficult few years for her. Her condition has caused her to become very unwell at times. She has had septic infections in her joints, and at one point this led to encephalitis in her brain and we nearly lost her. She has lots of severe flare ups and so far has had seven sets of joint injections.

Support at last
When Abigail was about 12 years old, we were told about residential weekends organised by a charity called Versus Arthritis, and we signed up for one. Abigail was very nervous getting on the bus with lots of people she hadn't met before, but when she came home, she was like a different child.
She said she felt normal, she didn't have to hide the pain anymore and didn't have to feel embarrassed if she couldn't do some things.
Abigail made some truly amazing friends from that weekend. Although they live all over the country, thanks to a WhatsApp Group, the young people keep in touch and if one has a hospital appointment, messages, advice and support flow. Versus Arthritis has been a godsend for us.
Don't be afraid to ask questions
My biggest piece of advice for families going through something similar, is to ask your consultant any questions you have about the condition, medication, or your child's needs.
I was afraid at first; I felt I couldn't keep asking things and would annoy doctors by doing so, but now I know this is the best thing to do. There's no point taking the risk with issues such as infection, medication and side effects. It's important you have the confidence to make the best decisions you can with your child.
Positive mental attitude
Despite the impact of her condition, Abigail is extremely upbeat and has always makes the best of every situation. There are days she's very upset and in a lot of pain, but she still goes to school and enjoys taking part in as much as she can.
As a family, we try to find things to help her. We've been doing up her room for her birthday and had seen an amazing loft bed, which would look great, but we've had to think about whether it will be possible for her to get up on days she's flaring and whether we could put a futon underneath if she's having a bad day.
We always try to be as positive as we can, but we're also honest with Abigail. We help her to understand the different options available, as it's her body and her future and we want her to make decisions that are right for her.
We've struggled with family members and friends that didn't want to accept the condition in somebody so young. I think it partly comes from a lack of understanding, but people say things like "don't worry, she'll grow out of it" which can be very upsetting when you're aware that it might not happen.
I can understand why it might be hard to get your head around and this is why it's important to be honest and realistic with your family if you can. Try to help them to understand.
If you or your child has arthritis, Versus Arthritis can offer support and advice: ypf@versusarthritis.org.